Yahaha Assets Importer¶
Yahaha Assets Importer is a plugin-in tool for importing prefabs from Unity into YAHAHA Studio ("Studio") and binding them to your YAHAHA account. With this tool, you can import prefabs that contain meshes, and textures (up to 512x512 pixels), along with PBD Shader based on the Unity Universal Render Pipeline (URP) pipeline. Moreover, prefabs with humanoid and legacy animations can be imported as well, catering to your every need.
To import your Unity prefabs into Studio, you will mainly need to complete the following main steps:
Prerequisites¶
We recommend using Unity versions later than 2020.3.1 but before 2020.3.31 for the following steps.

All build platforms including Windows, macOS, Android, and iOS are installed. If you haven't installed them all, do so in the Build Settings window or install the platform module in Unity Hub. For details, see Platform list.
Download Yahaha Assets Importer on Unity Asset Store.

Import Yahaha Assets Importer to Unity. For details on importing, see Import Package.
Before importing prefabs into Studio, you need to add and build them first in Yahaha Assets Importer.
Open Yahaha Assets Importer by choosing Yahaha Plugin>Assets Build in the top menu.

Log in to Yahaha Assets Importer with your YAHAHA account.

On the Build Prefabs tab choose + to add prefabs.

All of your Unity prefabs are displayed as a list. Select the prefabs you want to import to Studio and click Add to confirm.

Then select the prefab to build and choose Build to start building. While prefabs are being built, no actions are allowed. After they are successfully built, continue to build them.
After adding and building prefabs, import them into Studio by choosing the Import Prefabs tab, selecting the prefabs, then clicking Import All.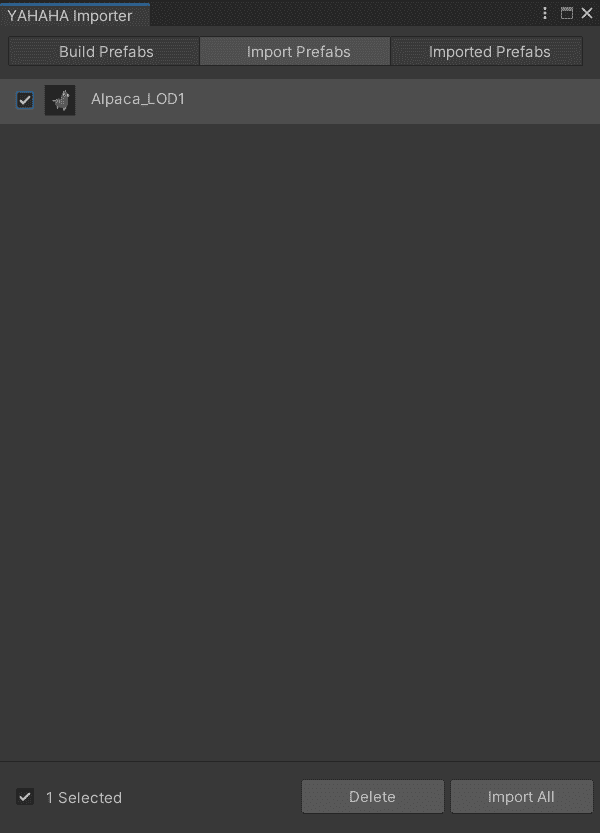 View imported prefabs on the Imported Prefabs tab. To delete an imported prefab, select or hover over it before clicking Delete.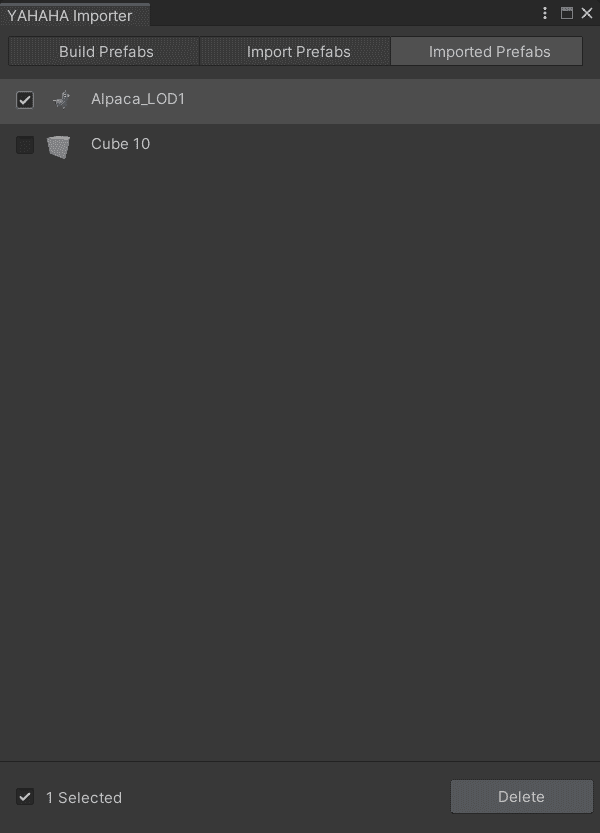 To apply an imported Unity prefab to your scene:
In Studio find the prefabs you imported from Unity by choosing My Resource>Imported from Unity.

Download the prefab by clicking it, and then click it again to add it to the scene.
Reference¶
If your prefab contains animation, you need to attach a Monster component and an NPC Animation component to animate it. For more information, see Animating a model.